The News | African Policy Forum
Tuesday, 07 May 2013 23:11
By Eric Acha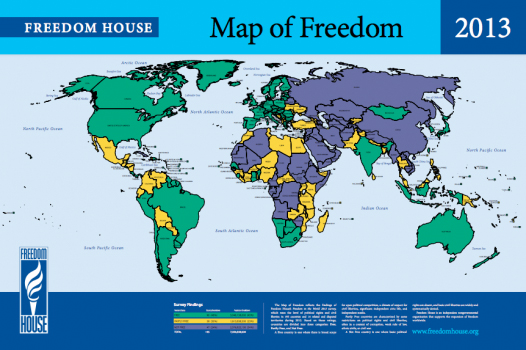 Over the years, coups and other democratic impediments have adversely affected Africa's freedom ratings. This in return would have had enormous dampening effect on the continent's progress in other areas including economic growth.
However, the correlation between freedom as defined by the Freedom House and economic growth is not still quite clear cut, especially with regards to Africa. The figures and rhetorics emerging from the continent raise unanswered questions to this relationship. According to the world Bank, Africa has been growing robustly, and the region's economic prospects remain good over the years to come. At the same time, very little progress seems to have been made with regards to freedom as per the Freedom House index. So is there really a relationship between those two variables?
statistically it is widely accepted that the correlation between two variables does not automatically imply that one causes the other. There certainly exist a relationship between democratic freedom and economic growth, but whether they exist causation and the direction of that causation is still a topic generating much debate.
For the sake of avoiding any ambiguity and appreciating the revelations by the freedom house, the facts should be looked at in the context in which they are presented, i.e simply the political freedom and civil liberties. Without any doubts, sub-Saharan Africa (with the exception of a few countries) has ranked as the world's most politically volatile region for many years, with major democratic breakthroughs in some countries, and coups, civil strife, and authoritarian crackdowns in others. This certainly has been the basis on which Africa has been scored poorly by the freedom house over the years.
The Freedom House index groups and score countries in three different categories; Free, Partly Free, and Not Free.
As per their definition, a Free country is one where there is open political competition, a climate of respect for civil liberties, significant independent civic life, and independent media.
A Partly Free country is one in which there is limited respect for political rights and civil liberties. Partly Free states frequently suffer from an environment of corruption, weak rule of law, ethnic and religious strife, and a political landscape in which a single party enjoys dominance despite a certain degree of pluralism.
A Not Free country is one where basic political rights are absent, and basic civil liberties are widely and systematically denied.
According to Freedom House, while sub Saharan Africa witnessed several significant gains, especially in West Africa, civil conflicts and the emergence of violent Islamist groups in Mali for example prevented an overall upgrade for political freedom. Côte d'Ivoire and Senegal scored positively on the index moving from not free to partly free and from partly free to free respectively. Sierra Leone also moved from Partly Free to Free as a result of a free, fair, and peaceful presidential election in November.
The gains made by Senegal can be directly attributed to the peaceful political transition that saw President Wade conceding defeat to Macky Sall, as well as the neatly organized parliamentary elections in the country.
Mali, Guinea Bissau, Central African Republic's declines were no brainers. The three dropped from Free to Not Free, Partly Free to Not Free and from Free to Partly Free respectively. For Mali, the crisis emanating from the Islamic insurgency in the North could be rightly blamed for the decline in its freedom rating. The country following years of democratic progress astronomically dropped from Free to Not Free.
Kenya, Nigeria, Madagascar, South Africa, and Uganda are amongst the African countries that saw their ratings dropped in the 2013 index.
With these details, it comes as no surprise that 41% percent of sub Sahara Africa countries are considered not free.
For a more comprehensive analysis and insight on Freedom in Africa, see the 2013 Freedom House Index here
Last Updated on Saturday, 11 May 2013 21:00
Is Ghana a Beacon of Democracy in Africa? Presidential Elections Hailed as Free, Fair and Transparent!
By Eric Acha
8 December 2012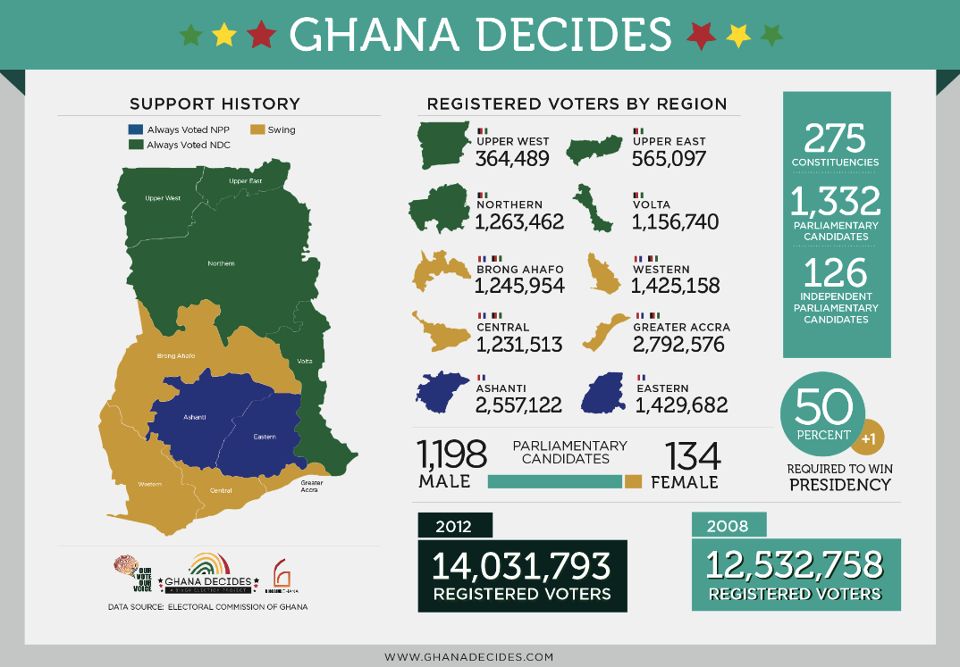 image source: ghanadecides
Ghanians are just about to witness another smooth and peaceful election that will mark a major mile stone in the country's democratisation process. Over the last 12 years, the country's foundation of democracy has successfully enabled the smooth transition of power from one democratically elected leader to another and the fruit of this functioning democracy is the booming economy that is rapidly expanding.
With a real GDP (oil & non Oil) growth rate of 13.4 per cent in 2011, (dropping to a still impressive 10 per cent in 2012), Ghana is projected as the fastest growing economy in Sub-Saharan Africa, thanks to its strong democratic institutions, sound management of resources, a competitive business environment, a crackdown on corruption and a dozen of other investor-friendly factors
The country, poised to become a middle income country by 2020, is on the fast lane with huge investments in almost every sector of the economy (except for the manufacturing sector), with infrastructural investment projected to engulf a substantial percentage of the overall investment.
With the recent discovery of Oil, coupled with the booming Gold and Cocoa sector in the country, experts fear the country could further show strong symptoms of the Dutch Disease; however the country's services sector still accounts for 50% of GDP. In 2006, Ghana signed the Millennium Challenge Corporation (MCC) Compact which aims to assist in transforming the country's agricultural sector. Despite the boom, the country's manufacturing sector is at an all time low with recent growth registered at only 1.7 per cent, far off the target of 7.0 per cent.
So whoever emerges as the winner of the current presidential elections, will face an uphill battle to revamp the manufacturing industry in the country. The country's industry experts have accused the previous regimes of allocating insufficient resources to the manufacturing and technology industry especially in research and development (R&D).
With five consecutive democratic elections and peaceful transitions of power since 1992, there is no question on whether or not other African countries should look onto Ghana as a model to emulate.
Given all these successes, it comes without doubts to learn that poverty in Ghana is decreasing at an ever increasing rate year in year out.
Without an iota of doubts, Ghana is now one of the most attractive emerging market destinations globally for foreign Direct Investments (FDIs)
However some economists have cautioned that the country needs solid macroeconomic policies to mitigate this fast growth and help curb high inflation that risk widening the country's deficit if not contained.
When politics is healthy, the economy is healthy and so is every other thing.
Kofi Annan: The world must tackle corruption in Africa's oil, gas, and mining sectors
Published by the Africa Progress Panel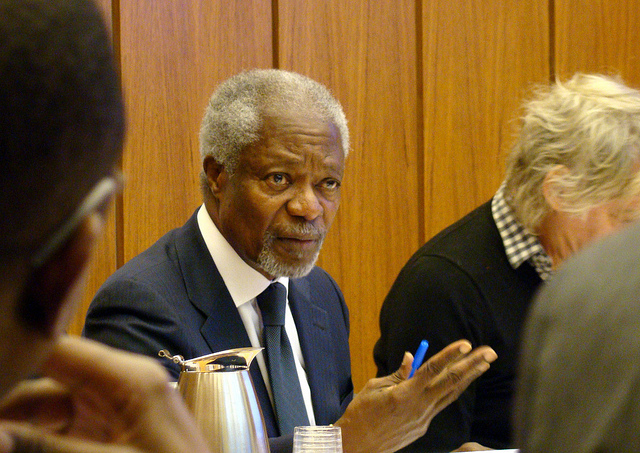 GENEVA, November 28, 2012 – The world must do more to tackle corruption in Africa's oil, gas, and mining sectors, said Kofi Annan, Former Secretary-General of the United Nations and Chair of the Africa Progress Panel, at a consultation meeting on Wednesday in Geneva.
Organised by the Africa Progress Panel and part of a methodical consultation for next year's Africa Progress Report, the one day meeting brought together an unusual combination of representatives from the private sector, civil society, government, and academia. The annual report highlights key development issues for Africa together with policy recommendations, and next year's report will be on oil, gas, and mining.
"Corruption and weak governance are critical issues for Africa's oil, gas, and mining sector," said Kofi Annan, Former Secretary-General of the United Nations and Chair of the Africa Progress Panel.
"These are human failings, but the world must do much more to tackle these issues not just within African governments but also in the foreign companies that pay the bribes and distort their accounts for profit at the expense of African peoples," he said.
Africa's natural resources represent tremendous opportunity for the continent, and African countries, foreign companies, and the world community must do more so that revenues from natural resources can be used to pay for health and education, participants agreed.
"Because we all need Africa's immense resources, the continent now has an extraordinary opportunity to seize this century and use its natural wealth to build healthy, educated and dynamic societies," said Bob Geldof, musician, businessman, advocate, and Member of the Africa Progress Panel, also present at the meeting.
"This will take three of Africa's other great natural resources – patience, brains, and courage," he said.
Riots in South Africa, US and European legislation, and the growing influence of China were among the other issues discussed by participants, who also included Botswana's former President, Festus Mogae, and representatives from oil and mining companies, Oxford University, the African Development Bank, and the Africa Progress Panel itself.
"I'm happy to be a part of today's consultations as a Member of the Africa Progress Panel and as a citizen of Botswana, a stable middle-income country which has benefitted tremendously over the years from its diamond wealth," said Linah Mohohlo, Governor of Botswana's Central Bank and a Member of the Africa Progress Panel.
"Everybody in Africa should be able to enjoy whatever natural resource wealth their country has, but citizens should expect the rewards to come only with responsibility, hard work, and patience," she said.
Next year's report builds on the 2012 Africa Progress Report, Jobs, Justice and Equity. The report warned that growing inequality in Africa was undermining its otherwise extremely impressive progress.
"Africa has some of the world's fastest growing economies, but this growth needs to create more jobs and to reduce inequality more effectively," Michel Camdessus, former Managing Director of the International Monetary Fund and Member of the Africa Progress Panel, said.
"We have come here today to find ways in which Africa's oil and mining sectors can make much, much stronger contributions to the reduction of poverty and inequality," he said.
Mo IbrahimPrize withheld for the 3rd time in 6 years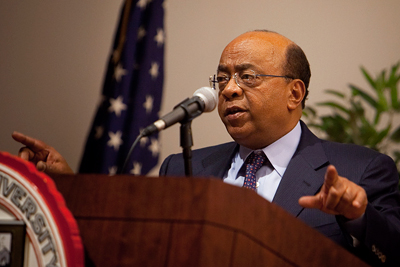 By Mo Ibrahim
This year, my Foundation withheld our Leadership Award for the third time in six years. This prompted much hand-wringing over the state of Africa and in particular the futility of this initiative and the bad name it was giving to the Continent.
I have spent my career trying to tell the truth about Africa. When, fifteen years ago, I started to build an African mobile phone operation, very few were willing to hear or believe that Africa was open for business. When I said time and again that you could do business in Africa without paying a dollar in bribes, I was met with disbelief.
Fifteen years later, it has become fashionable to talk about Africa Rising. The Hopeless Continent has become the next investment frontier as investors consistently make returns impossible elsewhere.
Amidst all this optimism, it has become deeply unfashionable to talk about some of the less favourable trends on the continent.
Over the past ten years, the general trend across African governance is positive. We have seen a marked decline in conflicts, sustained economic development and significant gains in Human Development. We are more peaceful, prosperous, healthy and well-educated than at the turn of the millennium.
However, our Index also showed that the economic progress being made comes amidst democratic stagnation and even recession. Our powerhouses - Egypt, Kenya, Nigeria and South Africa - are under-performing. And as our Prize Committee decision indicated, we are not seeing the kind of visionary leadership that will help us make the transition from our twentieth century challenges to becoming dynamic twenty-first century players on the global stage.
We established the Ibrahim Prize as a recognition of excellence in Leadership. We set a high bar, one that not only could be achieved but one that needed to be if Africa is to meet its potential and the aspirations of our young people. We have consistently maintained that standard even under sustained criticism. Excellence is not a relative concept and we refuse to embrace a lower standard because we are an African institution. Moreover, doing so would cheapen the awards rightly given to Presidents Chissano, Mogae and Pires.
We have been described as 'failing' to make the award for three years. But is it the Foundation that has fallen short or the political leadership of the Continent?
It is not the role of our Foundation to cheerlead or denigrate Africa. We must be just as critical of those who seek to hide the challenges we face, as those who seek to present Africa as a continent of victims. It is our role to speak the truth as we find it and stimulate debate about the issues that matter most.
We were delighted to honour Archbishop Tutu last month for his decades-long commitment to speaking truth to power. This is the role and responsibility of civil society and one we must not shy away from.
I am delighted to see the positive trends highlighted by this year's Index. Africa is on the move. But I am also proud of the decision of our Prize Committee. We still have a way to go.
By Abdul Ghelleh
Oct. 11, 2012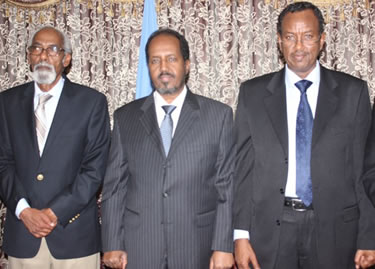 Promptly after arriving at Doha Airport en route to East Africa this past Saturday evening, I frantically wandered around the departure concourse, looking for a power socket for my laptop. It never bothered me before but I leant during the flight that airlines don't have equipments that carry live signals in their cabins. All the news that you are able to read or listen from the little screen that is mounted at the back of the seat in front of you is pre-recorded.
I spotted several Somali looking men in the departure lounge that came from the West, and some were possibly heading to similar destination to mine. The boarding time for my flight departure had already been announced over the loud, overhead speakers. But as I couldn't wait to find out who was nominated as the new Somali prime minister, I turned the little gadget on and stood still by the screen impatiently while the browser buffered.
I had no fewer than four Northern Somalis in mind, and since the president is from the South, I wanted to find out who, among my favourites and fellow Northerners, was chosen as the new Somali prime minister. The individuals in my list, I believe, have greater understanding of the way the masters of this universe - the Western ruling elites - and their societies functioned. The world class Northern professionals who are present in Mogadishu in large numbers, I thought, are the only chance that Somalia had in her entire existence as a nation.
I also think that the appointment of a Northerner as prime minister would've alleviated the suspicions our brothers in the North harbour that the South, somehow, wants to dominate the political landscape of Somalia. A capable president from the South and equally hands-on prime minister from the North, I concluded, are Somalia's best hope for a rapid political, social and economic recovery. -**
But my hopes were dashed in a blink of an eye after glancing WardheerNew's headline and learned that a Northern intellectual was not nominated as the new Somali prime minister. In fact at that point I seriously considered halting my trip at Doha and returning to my cold and windswept Northern Europe by the first available flight. But never mind, I said to myself. And as I had other things to do in the region, I put the laptop back in my shoulder bag without properly switching it off, and I continued on my trip. I was one of the last passengers to board the flight.
s Nuradin Farah, the celebrated Somali writer once whispered to a fellow passenger and a journalist from Djibouti: "as long as we are talking, we have not lost hope". And like other Somalis, I have not lost hope too.
We have now heard, albeit briefly, from previously recorded interview with a Somalia TV Channel about how the new prime minister intends to run the country for the next four years, at least, and his plans to help reverse Somalia's unprecedented recent past and present misfortunes. I leant a thing or two from the new Somali prime minister's interview, and not the least that he is seasoned thinker and highly articulate individual.
However, large segments of the Somali population, given our culture of abrupt dismissal before debating and deliberating, cried out and expressed negative reviews of the new prime minister. In fact some people have already portrayed the new prime minister as radical Islamist; someone who after all won't be good enough for the job; and others, in some quarters of the Somali society say he is, in collaboration with the new president, a member of a new - yet unknown - secret religious cult which will soon mushroom across Somalia.
Personally, I am sceptical of the Somalia politics (though pragmatic one at that), but I see the appointment of the new Somali prime minister as a new opportunity for Somalis to finally set the pace for a new social and political programme in order to ultimately own their own destiny. And as the president and the prime minister are said to be friends and former colleagues, it can be a positive new development when two friends hatch a new strategy to carry out a workable and comprehensive political order to finally take full control of a new struggle for freedom in Somalia. But we have yet to conclusively learn if there is such strategy. I am confident though that in the next few weeks more clarifications will made in Mogadishu, so we have to eagerly await for more information and be patient for a bit longer than we have so far been.
In this state of affairs, Somalia needs a carefully instituted and sustained liberation struggle before any talk of re-establishment of a fully sovereign nation state in what was once known as the Somali Republic. And I urge the upcoming new Somali government not to jump the gun and seek any sort of confrontations with regional mini states such as Puntland and Somaliland, and even with the new Jubba Kenya-Raskhamboni alliance. Instead, the new Somali leaders should work toward creating an inclusive political environment and focus all of their energies - with help from the international community - to pacify the Mogadishu-Beledweyn corridor. And this is not such an easy task.
Furthermore, we should remember that Somalis are in a worse state than what black South Africans were going through after the Second World War. However, the new developments in Somalia can be roughly, if looked at certain dimensions, compared to that of the African National Congress of the mid 1950s. Because of the fragmentation of the black population of South Africa in those days, it became necessary that a small number of friends confer at the sidelines of the organisation to establish a secret executive order within the larger Black Power struggle across South Africa.
So if the said friendship between the new president and the new prime minister is true, it seems that they have more in their sleeves than we've heard, and definitely I sense a change in the status quo where previous Somali leaders squabbled for power.
But the short comings here - and one of the main differences between the two societies - are that the black South African elites were exposed to Western political philosophy while their Somali counterparts are not. Therefore, it's very hard to put the lid on and stand guard on 'a collective and secret decision making mechanism'. And my fear is that it would almost be impossible for the new governing Somali leaders to stay the course for much longer than three months, before competing clans, regional governments or Arabs take over their political agenda.
In the light of this, my advice to 'G2', and possibly 'G3' (if Speaker Jawahiri was a friend of the president and the prime minister before the transition ended) is to set a radical social and political framework for a set period of time. And a starting point should be to limit or put to a complete stop to Wahabi Islam activities in Somalia. Before I left Somalia in the early eighties, there were only two teachings of Islam: the Salihiyah and the Qadiriyah, both of which belong to the Sufi tradition of Somali Islam. One or two other Islamic sects were heard but they were not that significant and were never fully embraced by the Somali people.
Al Shabaab, Ahlu Sunna, Hisbul Islam and the latest fashion name presented to the Somali people in 2012 - the Dam Al Djadiid - should be replaced by Saxansoxo, Barwaaqo, Guryo-Samo and Gol-Janno. A de-Arabisation process of Somalia must be put to motion and the present Arab influence reversed. And while Somalia is a Muslim nation, the future social and political direction should be chosen from either 'wholly Somali owned' or an 'Indonesian or Malaysian social and political structure'.

Any aggressive nationalistic rhetoric from the new government at this stage is going to be counterproductive; and confrontations within government and to a large extent with the International Community should also be avoided at all cost.

The second point I like to emphasis is the quality of the new government. Stabilising the country must be the priority - and the only priority, and the necessary institutions with the right personnel must be established and strengthened. Such departments as 'the Information Ministry'- a hangover from the Cold War era communist propaganda instrument, must be phased out. The new Somali institutions must reflect what is required on the ground and only based on established facts and the real needs of the general Somali population.
And finally, the new leadership in Somalia must understand that large parts of the Somalia stabilisation programme will be outside of their remit for some time to come. And a robust leadership is required of them to adapt to the changing situations quickly. Political maturity must be maintained and displayed at all times; 'G3' should understand when it's right to exercise full power or when to assume full control of the country. Political and security independence will only be possible if the conditions on the ground permit otherwise. And those assisting Somalia must be respected; others should be referred to the international community.
Only then can the new Somali leaders be compared to that of Nelson Mandela and Oliver Tambo of South Africa. The two SA leaders exchanged policy ideas in a top secret communications channel between world famous Robin Island prison and a Swedish hospital room, before successfully taking full control of their country, and thus ending centuries of white minority oppression in South Africa.

Mr President and Mr Prime Minister, the ball is in your court!
Page 4 of 7
<<
Start
<
Prev
1
2
3
4
5
6
7
Next
>
End
>>
Featured Leaders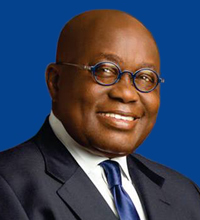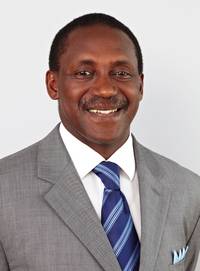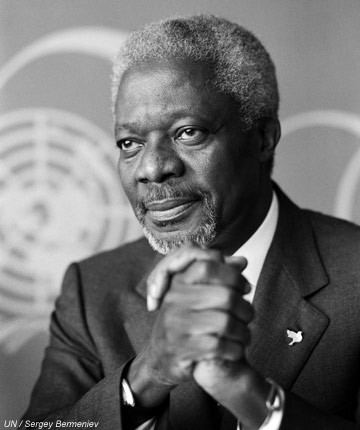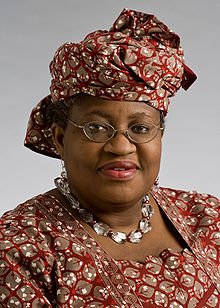 Dr. Ngozi Okonjo